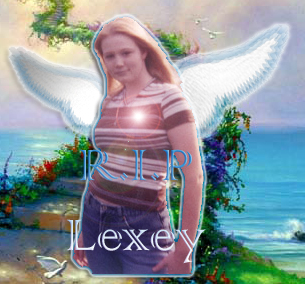 This Is My Favorite Pic Of Lexey That A Friend Of Sabby & Linda's Made For Them
What an Angel means to me........
by Jaymi Kyle
An Angel is a special person, and i know One Special Angel in my eyes named Lexey. She was a nice, loving, pretty, sweet, honest, special, one of a kind, and a caring girl. Lexey means alot to other people. Espically to my mom and I. An Angel is a beautiful guardian that has wonderful white feathers and, and beautiful golden halo, she is also a miracle of gods work. I know Lexey is loved and cared for deeply and just that kind of person you could always come to love and know. So what an Angel means to me is that everything Lexey is. So if you know or knew Lexey thats what an angel means to me.....